←

Blog
The notebook habits of famous people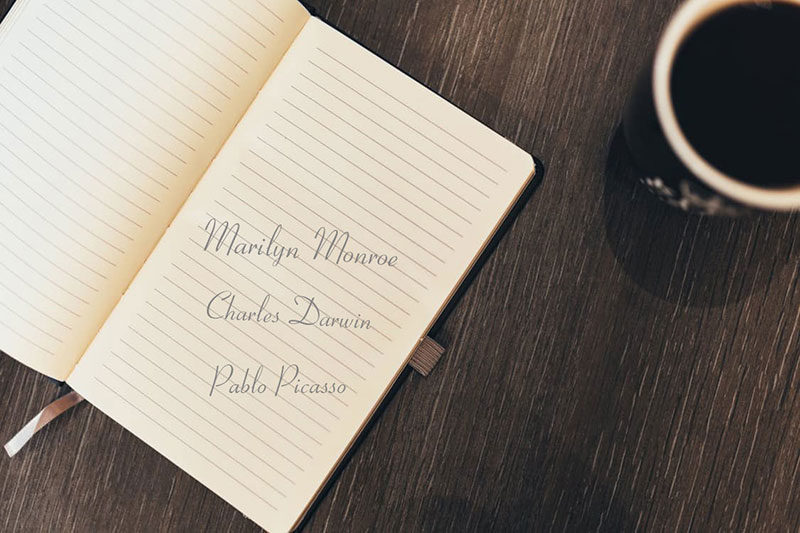 Keeping a notebook handy for jotting down those lightbulb thoughts and ideas can actually improve your creativity. It's something that famous creatives throughout history have understood and made use of - writers like Ernest Hemingway and artists like Leonardo da Vinci, for example, were never without a notebook to commit their thoughts to paper.

Charisma, brains and name dropping

The legendary blonde actress Marilyn Monroe was desperate to be known for her brain, as well as her looks. She carried a tan leather notebook inscribed with her initials 'MM', in which she would record her thoughts and impressions, extensive to-do lists, poems and recipes. The father of modern psychoanalysis, Sigmund Freud was also a committed diarist and a terrible name dropper, using his notebooks to record his meetings with the likes of Salvador Dali and H.G. Wells.

Genius loves a notebook

Charles Darwin used his notebooks to scrawl his famous 'tree of life', the foundation of his ground breaking theory of evolution. Leonardo da Vinci's notebooks are filled with signs of his extraordinary genius - written in mirror writing, his thoughts leap from human anatomy to an early prototype of the tank.

Designer diaries

Sir Hardy Amies, who designed the Queen's wedding dress, kept his personal thoughts in personalised diaries stamped 'Dearest Hardy.' Spanish artistic genius Pablo Picasso loved his diaries so much, he personalised them by swathing them in exotic fabrics.

What better way to emulate the world's most famous creatives than by carrying your own customised notebooks wherever you go?
20% off your first order with promo code 'MYOWN'
Order 10 books and Get 1 FREE